One Country; A World of Adventures
Sawasdee khrap! Tigers and temples, climbing and caving, waterfalls and wisdom, elephants and environment. 147 National parks in 77 provinces, each with their own story, cave and boat. Open your tent to the dawn sea mist in the north, rappel into the Andaman Sea and kayak the entire coast. Engage with the massive shift in elephant conservation, embrace a Buddhist mantra and leave with a love of the simple and huge empathy for stateless minorities clutching at their cultures.
LEARN, LOVE and CLIMB LAMPANG

In and out of Chiang Mai - 3 Provinces, 6 days, 5 nights.
One of the most valuable things you can do with your class, your company or you compadres is switch off your phones and spend a week in a society and environment you have never experienced before. Find yourself in a hill-tribe village batting rice, picking cherries and weaving high-quality cloth and products on a human-driven loom. Trek into a Karen Village with member of that village, forage for jungle fruit, walk with elephants. Stay in a homestay, cook with the village and float back out on bamboo rafts. Then reflect on your impact and learnings on the slow train to Lampang before climbing a huge natural rock-face in this beautiful province. Learn how the locals do permaculture, eat from their farm every day, and camp under the stars.
Day 1 – Arrive CNX (Chiang Mai) – Transfer by van to markets, 1.5 hours north of the city, buy ingredients to cook with your villagers. Enjoy sticky rice in banana leaf. Trek 2 hours to village homestay and learn how to forage and survive in the jungle along the way.
Day 2 – Spend morning working in the village on genuinely useful tasks, depending on time of year, harvest. Trek to a natural Elephant camp and learn about conservation.
Day 3 – Bamboo raft (3 hours) out to the river head and transfer to CNX (Chiang Mai) and spot Wild Elephants on the way.
Day 4 – Train to Lampang – Lunch – Trek into farm camp-stay and join permaculture workshop
Day 5 – Rock-climb then sleep under the stars
Day 6 – Train back to CNX – to fly out.
KAYAK & CLIMB KRABI: In and out of KBV (Krabi)

Southern Thailand, 5 days, 4 nights
Where else can students climb above the lapping coastal waters and rappel into the water? This is the ultimate adventure location where you can combine climbing, kayaking, snorkelling and hiking in one week. Camp under the limestone karsts and take a traditional Thai long-tail boat in and out of your headquarters, then slow things down and enjoy human-powered travel and sustainable living for the entire week. Learn some Thai language and history and then learn and practise some incredible technical skills from our Thai staff and enjoy every sunrise and sunset for a week with your teammates.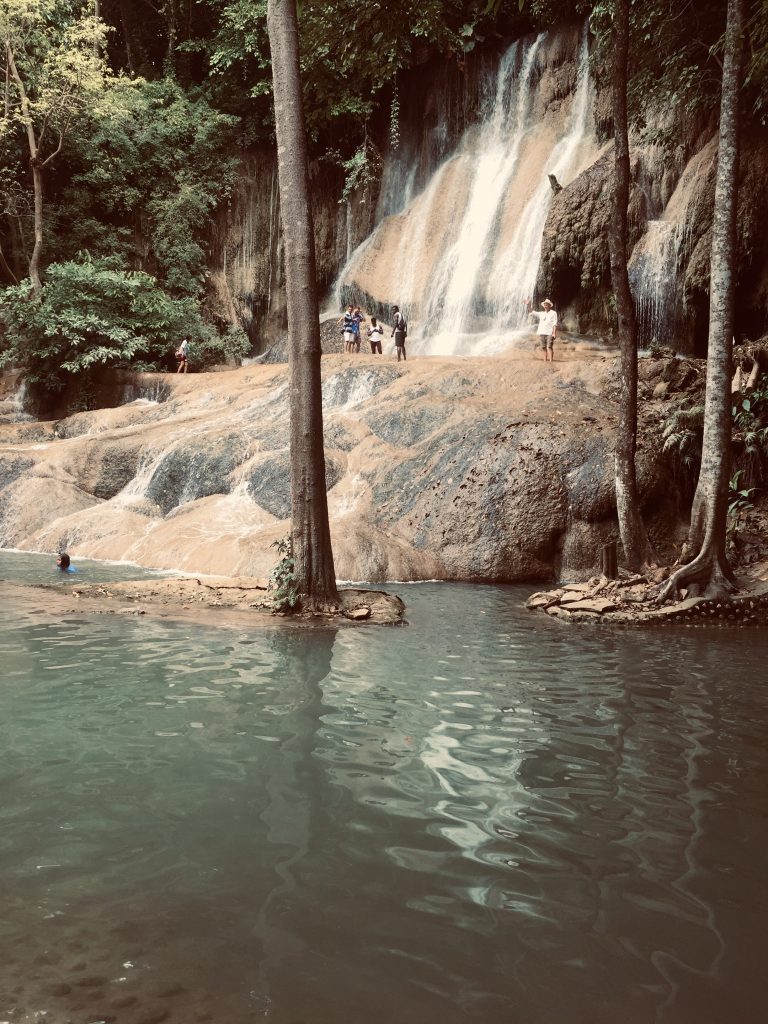 Day 1 – Arrival in Krabi via train/van or plane, transfer to headquarters on Krabi coast and take a deep dive historical and geological tour amongst the incredible limestone karsts, pools and beaches.
Day 2 – Learn to climb or extend your skills and climb our natural rock faces overlooking the waters of Thailand's south coast. Trek in and trek out of an immense network of local caves.
Day 3 – Snorkeling the majestic Koh Hong archipelago, have lunch on the Krabi coast and then kayaking through mangrove forest
Day 4 – Day Trek – 7.5 km trek to summit of Dragon horn at dawn through primary rainforest. Reach the top with your team and lunch over the most extraordinary views of Thailand
Day 5 – Departure from Krabi Airport or by road to Train Station.
Southeast of Thailand, 6 days and 5 nights

In and out of Rayong via train or road from Bangkok
Think of the footsteps that have gone before you here; what impact have they made? As humans expand their empire, the fragile environments that once amazed us are being decimated by improper management and damaging, under-researched tourism methods. Be a part of the solution here in Rayong and understand sometimes difficult journeys that have befallen local communities as tourists, roads and plastic have infiltrated their farms, backyards and livelihoods. Survey the reefs and the forests of this region of Thailand and bring back the natural equilibrium. Support reef conservation with your hands, then understand the Human Elephant Conflict (HEC) and learn about the extraordinary technique of bee-hive fences that protect the habitat of both elephants and farmers.
Day 1 – Arrival day to Rayong via train or plane – pick up and transfer to cottages on the coast.
Day 2 – Island visit. Visit Sea Turtle conservation projects that are trying to stem the tide of plastic entering Thailand's water, then explore the incredible underwater world of Koh Talu by snorkeling with your team.
Day 3 – Community learning. Grass Basket weaving and Thai Language with an ancient Thai Community whose livelihoods are threatened by the modern world and other more, glamourous tourist attractions in the area.
Day 4 – Mangrove studies. By boardwalk and boat, study one of the most important ecosystems in the battle against Climate Change and plan your ongoing effort to support this fragile environment.
Day 5 – Elephant conservation work. Van transfer to National Park and learn how once warring communities of humans and elephants are now living in harmony through an ancient technique of bee-hive fences. Build a fence and help with a reforestation project that's critical in stemming the dwindling number of wild elephants in Thailand.
Day 6- Departure