Provide your students with a safe and educational trip with experienced school ski trip experts
With hundreds of resorts, some of the world's best natural snow conditions, a fascinating and distinctive culture, incredible cuisine and delightful customer service standards, Japan is the natural choice for any international school taking students on a ski trip abroad in Asia. 
Imagine began its long journey many years back as a small, specialised school ski trip provider, after our founder – a qualified and experienced European ski instructor – discovered a demand for it in China. This means that Imagine truly understands both how to deliver top safety standards and how to meet the requirements of international schools specifically, with years of experience. Most ski trip providers are more focussed on adults, or small groups. Imagine truly understands the extra complexities, challenges and joys of hosting large groups of excited students of all ages and abilities.
Imagine's experience in a range of Asian countries and Japan itself places us in a unique position to deliver programmes that are sensitive to a wide range of student demographics and cultures.
As a long-time member of the education industry and not only the travel and ski world, we understand that schools are often keen to integrate other educational elements besides the skiing itself. We listen to how you would like your group to benefit, and tailor the programme towards these desired outcomes. This can involve anything from cultural experiences, language lessons and historical or natural site visits, to facilitated reflection sessions and journaling or developmental goals within the ski lessons.
Niseko in Hokkaido is usually our recommendation due to its legendary snow conditions, relative ease of access and vast range of accommodation options to cater for all group sizes and preferences. We also cooperate closely with an accommodation company and international ski school in Niseko, which makes everything smooth, reliable and flexible. However, there are plenty of other options. At certain times of year or for certain group types, we may recommend other resorts. For example, when flights are more available to Tokyo than Sapporo, or if you would like your group to visit Tokyo, it makes more sense to visit one of the many resorts in the Nagano area. These include Hakuba and Nozawa Onsen, where we also have close partners on the ground. If you have a specific preference, we are happy to tailor the trip. No idea which to choose? Just let us make the recommendation for you!
In the international school Christmas break, there is usually enough snow. However occasionally it can be a little thin on the ground at Christmas if the season gets a late start. If you are hunting the real powder days, January and February are your best bet. If you are able to avoid the true peak Chinese New Year period and come during term time, prices and availability will be the most preferable. March will be fully operational with enough snow on the ground, although fresh snowfall is more hit and miss. Sometimes you might catch a big late-season dump; sometimes not. April is fine for a shoulder-season, cheaper trip, if your expectations are not as high for snow quality. The biggest resorts usually don't close until May.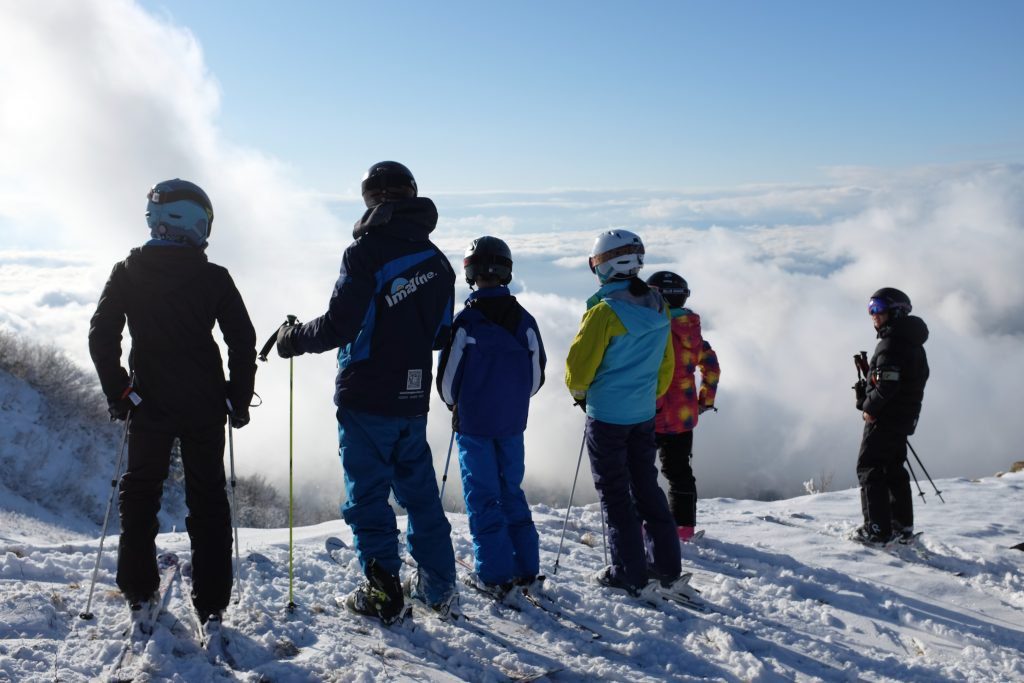 Imagine will take care of everything from airport pick-up onwards. We will arrange a private transfer, appropriate accommodation for group sizes, meals, lift passes and group ski and snowboard lessons! Trips can be any number of days.